Or is it all about what you think of me?
Firstly, you will be happy to know I have purchased a copy of "Blogging for Dummies" and will be adding all sorts of cool new features, like a "comments" page and "e-mail this site to a friend".
I LOVE to hear from happy readers! Remember to live life TO THE MAX and share the love!
"Your site is amazing! I am so-so impressed! Thank you for sending it. It is great to learn from what you send, and I look forward to receiving more!  Have you seen Codognato's skull jewelry in Venice?" Liliana Ilica.   Novi Liguri, ITALY
Codognato's in San Marco has been a famous landmark in Venice for over a hundred and forty years. Here, three generations of the same family, in exactly the same location, have designed remarkable and macabre jewelry based on designs unearthed in contemporary archaeological digs in Etruria (ancient Italy) including magnificent jewel encrusted skull rings and serpent necklaces. Once a favorite of Jackie Onassis the shop is now frequented by the likes of Nicole Kidman and Miuccia Prada.

---
"You're really getting me thinking about so many things.  I finish your Blog feeling very stimulated.  Keep writing.  I can't wait for the next one." Marlee S. Vancouver CANADA

---
"Thank you, I LOVE your blog. The podcast of Isabel Allende was wonderful!"
Consuelo Garcia, Hanoi, VIETNAM
---
"How wonderful to read your 'blog.'  You have already touched several chords with me. I thought you might be interested in knowing about a documentary on homelessness that I have been involved with for over a year.  The final 'result' aired on CBC's The Passionate Eye. The piece is called DEVIL PLAYS HARDBALL, produced by Paperny Films.  Google either and you will see it!  There is also an interview available on CBC's The Current, Friday March 7, called Helping the Homeless." Susan Evans. Vancouver, CANADA
---
"As for inspiring people I have to say that To The Max is inspiring me to think about subjects I have not explored for a long time so Thanks!"
Jill Nowack.  Vancouver, CANADA
---
"I suspect that you are on TED's mailing list but you can't afford to miss this so I am sending it even though you may have already seen it.  It is brand new."
Denys Laurence, Correns, FRANCE
---
Denys has sent us another fabulous podcast from the folks at TED.
"Neuroanatomist
Jill Bolte Taylor
had an opportunity few brain scientists would wish for; one morning, she realized she was having a massive stroke. She felt her brain functions slip away one by one, speech, movement and understanding, but as a scientist, she studied and remembered every moment. Taylor spent eight years recovering her ability to think, walk and talk. She has become a spokesperson for stroke recovery and for the possibility of coming back from brain injury stronger than before. In her case, although the stroke damaged the left side of her brain, her recovery unleashed a torrent of creative energy from her right. This is a powerful story about how our brains define us and connects us to the world and to one another."
---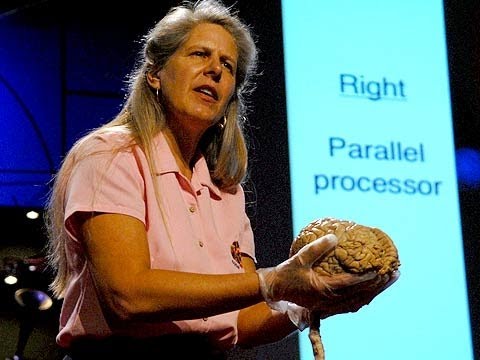 ---
ABOUT DENYS LAURENCE
"I was born in Trinidad. One of my great-great-grandfathers was an English Protestant missionary who went to the West Indies in 1823. He was a prolific gentleman and many of his progeny followed his profession, which explains why I have relatives in Canada, the USA, Australia and South Africa. I was educated in Trinidad and England and practiced law in the West Indies and Canada.  My especial interest was taxation and how it impinges on personal freedom in different countries. As a result I traveled extensively in all Continents except Antarctica. Most recently, I worked for thirteen years in Monaco, but since 2003 have been happily retired with my wife of 48 years, in a small village of 661 inhabitants in the South of France. Our stone home was built in 1603, and was used as an olive oil mill until the 1950s. The Argens River runs quietly, twelve feet from my bed and on the other side of I,t vineyards stretch towards the nearby hills. I enjoy reading "To the Max" because Peg is a keen observer of people and things and brings her refreshing viewpoint to both the familiar and the esoteric in a vivacious format."
Denys Laurence, Correns, FRANCE

---
FRIDAY'S READ – MORE ABOUT TED AND JOHN AND EVELYN.